Home Brew Hydro Saga

MK I: Early turbine and generator

MK II & III: New alternator and couplers

MK IV: shaft bearing and real world use

Coanda Effect water intake (New Rain Update!)

alt.energy.homepower discussion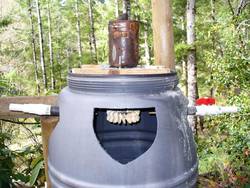 This is how it looks so far. Its got two nozzles that fire at a small pelton wheel attached to a generator. The barrel is there to manage the water and so its semi-mobile. I'll attach a big pipe to the bottom and send the water back into an existing stream and build a little rubber gasket for the view window so water doesn't go everywhere.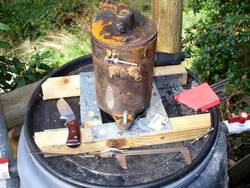 I found an old Olive barrel which is made of thick food grade plastic and built a cheesy mount for the Permanent Magnet Generator/Motor which was scavenged from a defunct diesel Lincoln arc welder. It was used to keep the battery charged for the electric start. It spins smooth and you can measure voltage at the posts spinning it by hand. I have no idea what kind of output to expect. We'll see.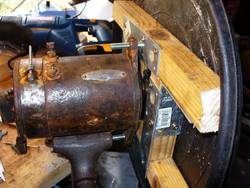 The generator is mounted to the lid of the olive barrel which helps provide a water barrier. I have a lot of rubber sheeting that i'll use to further protect the generator.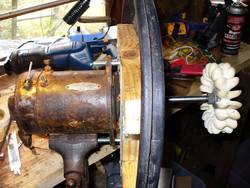 Here you can see the 1/4th inch shaft which is attached to the alternator by a coupling that has been partially bored out to 17mm to match the alternator shaft and keyway.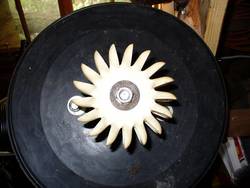 Here you can see the pelton wheel. I got this from a Canadian. Its some kind of fancy high density plastic that is so far pretty tough. I dropped it a few times and was worried about it cracking but so far nope.
Here you can see the pelton wheel with two nozzles aiming right at it from within the barrel. These are common brass garden hose nozzles you can find anywhere. I have some angle iron that I'll use to set the nozzles once i'm happy they are aimed right.
Meanwhile I've got a 15,000 gal pond with 100 feet of head (or so) and 1-1/2 inch line to feed this with. Still plumbing things in and building a little shed for it. I plan on sending whatever power I can get from the turbine into a load diverter/charger (probably a xantrex c35 or similar) to keep a battery bank full. From there i'll invert to 110 and send it into the house. I may upgrade the generator to a newer PMA alternator but till then we'll just have to experiment. I may have to add a bearing to the shaft in order to keep it stable.
that's all for now!